Helping to Make the Connections That Matter.
Helping to Make the
Connections That Matter.
Discover today how our team has helped a number of our clients,
and countless others like them, to successfully grow their
businesses and provide the best possible service to their customers.
Supporting Our Clients' Successes
for More Than 60 Years.
For more than six decades, JSI has served as the preferred partner and advisor to hundreds of communications providers across the United States, helping them to make the connections that matter most – to their businesses, to their customers, and to the communities that they serve.
However, at JSI, we prefer to let our clients and our exceptional 60-year record of service speak for us. Therefore, we encourage you to take a moment to read some of our clients' own stories of their recent successes with JSI.
How JSI's NOC+ Service Has Proven Invaluable to Poka Lambro.
"One of the most important benefits of JSI's NOC+ service it its proactive management of our network — which has proven invaluable in preventing network outages."
Patrick Sherrill
Poka Lambro Telephone Cooperative Inc. – General Manager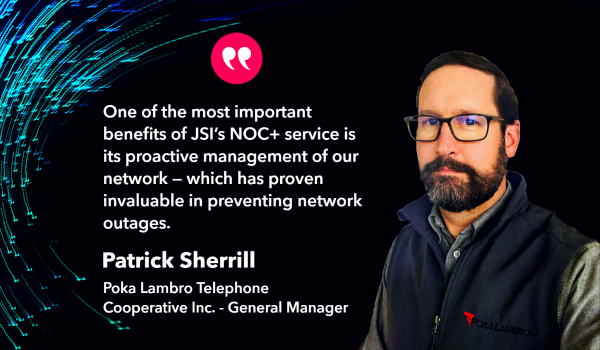 How JSI's Regulatory Bundled Service and TrackNow Gave WK&T an Edge.
"JSI's bundled regulatory reporting service and automated TrackNow reporting tracker save our team at least 15 hours of work each week.
JSI made the TrackNow setup and onboarding processes as simple as possible for everyone at WK&T. They even helped us to customize the WK&T account to meet the specific needs of our business, which now spans a number of states, making it subject to the complex regulations of several jurisdictions."
Katie Williams
WK&T – Compliance Accountant
How JSI's Unique Approach to Grant Applications Helped Tularosa Communications.
"JSI's keen attention to detail truly made a difference throughout our entire grant application process.
With their invaluable support, our application ended up being both exceptionally well-written and ultimately successful."
Josh Beug
Tularosa Communications – General Manager
How JSI's NOC+ Service Proved Indispensable to Central Access.
"JSI's NOC+ service and broadband expertise have been indispensable to Central Access during this high-growth period.
From the start, their team identified ways to improve our network and increase its resilience."
Chris Montgomery
Central Access – Vice President
How JSI's Broadband Funding Application Support Services Ensured San Bruno's Long-Term Success.
"Partnering with JSI greatly exceeded our expectations at every turn: They assembled a highly experienced team, all from under one roof … [that] developed a range of strategies to ensure our long-term success."
Sandeep Krishnamurthy
San Bruno CityNet Services – CATV Director
Learn More About Our Broadband Funding Application Support >
What Do JSI's
Other Clients Have to Say?
"We've had DDoS protection for a long time and understand it's an important part of total customer satisfaction. Since there was no additional cost to increase the number of upstream connections [with JSI's DDoS Mitigation service], we can continue to grow our business without incurring additional charges to mitigate attacks with the added benefit of detailed upstream monitoring."
– Michael Prather, Vice President – Technology, Totelcom Communications, LLC 
"The team at [JSI] came to may rescue and have dramatically reduced my stress level with CABs. They have restored my confidence in my CABs bills, as now they're timely and, most of all, accurate."
– Mark Graf, General Manager/CEO, Winn Telecom