JSI's TrackNow Regulatory Reporting Tracker
Do Not Miss Any (More) Critical Regulatory Filing Deadlines.
Connect with a senior member of the JSI team today to discover how our all-inclusive TrackNow regulatory reporting tracker can provide your team with the resources and the peace of mind that it deserves.
Put Your Team on the Fast Track to

Success with TrackNow.
TrackNow's

Service Overview >
With JSI's all-inclusive TrackNow regulatory reporting tracker solution, you and your company can have access to all of the tools that you will need to:
•  Avoid government enforcement action and fines, which could be charged for each day of non-compliance.
•  Keep track of regulatory changes to filing deadlines and requirements.
•  Get automated alerts for upcoming deadlines.
•  Avoid gaps in filings when your team members retire.
•  Know precisely who on your team is handling specific filings.
With TrackNow, you can ensure that your team stays on top of your company's regulatory filings by improving organization, project visibility, internal and external collaboration, training, and accountability.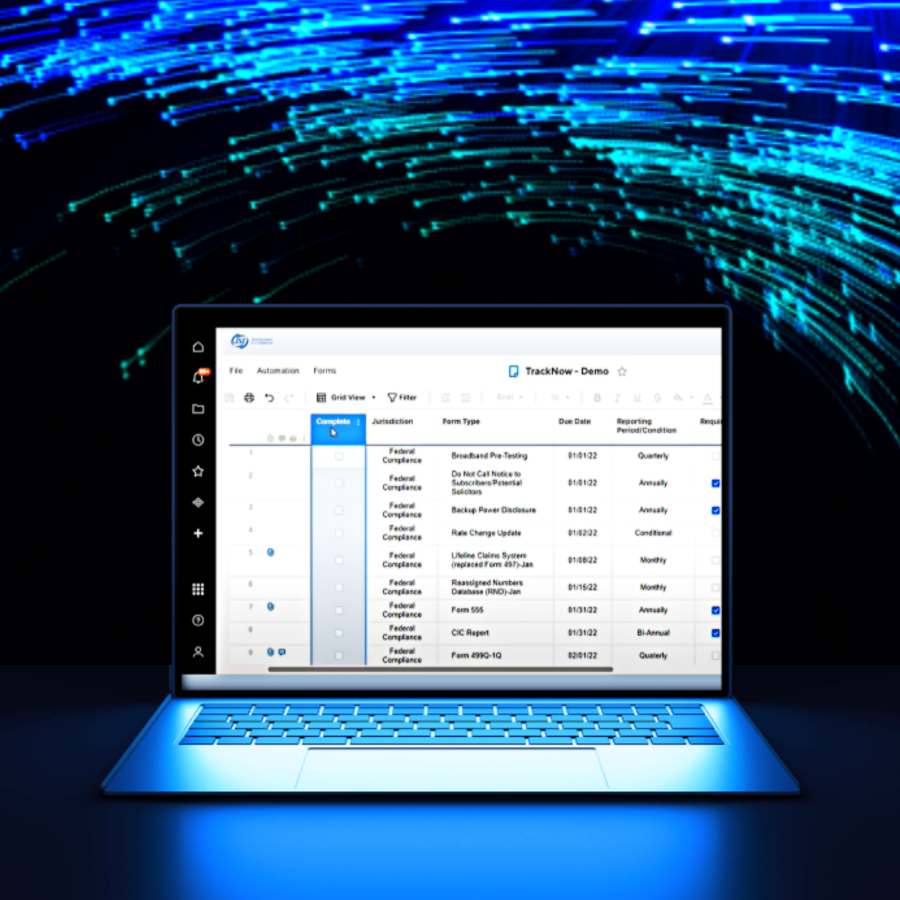 Get Even More Support with TrackNow Premium >
Additionally, with TrackNow Premium, JSI can can work with your customized TrackNow system to manage, prepare, and file all state and federal regulatory filings on your company's behalf, ensuring your timely compliance with the relevant state and federal regulations.
As an added bonus, new and existing TrackNow Premium customers also receive complimentary access to JSI's new Broadband Labels Package service as part of their Premium subscription. To learn more about our Broadband Labels Package, click here or press the "Connect with Us" button below to speak with a senior member of our team about this new offering.
TrackNow's

Core Features >
Some of the core features of our TrackNow solution include:
•  An interactive, web-based tool with a complete list of all relevant federal filings due throughout the calendar year, which JSI can customize to include any state-specific reporting requirements or other deadlines that might be relevant to your company.
•  A range of customizable alerts, automation, and other tools to streamline your team's work.
Would you like to learn more about TrackNow and its features? Take a moment to view this brief video from one of JSI's dedicated TrackNow team members, and click the button below to request your own no-obligations demo with a JSI team member.
TrackNow's

Bonus Features >
As an added bonus, all TrackNow packages now include:
•  A complimentary initial set-up meeting to customize the guide by determining the relevant and required filings and preferences for automated reminder emails and staff access.
•  A complimentary 30-minute training session on how to use the online tool.
•  An inventory of all filings due throughout the year in chronological order with references to federal rules (your company has the option to select either federal filings or federal and state filings, depending on the state or states in which the company operates).
•  Embedded documentation describing the purpose of the filing.
In addition, the JSI team can create a customized package for your company to ensure that it fits your specific needs. Simply click the button below to connect with a member of our team today to learn more.